Partners

What does it mean to be a SANS Business Partner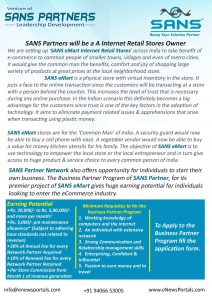 To be a Business Partner of SANS means much. It is to Partner with a Software company Along with Multiple Business Ventures, lined with a workforce of over 1000, 3 branches & with 20 Lakh Visitors.
At SANS a Business Partner is much more than just an add weight, he is a business partner.
What is a Business Partner? The BP/ Business Partner are given an independent pin-code to develop. It is a gift wrapped offer that lets him/her the freedom to run an independent business from a set location & for a sanctioned period. Irrespective of age, it is also a lifetime opportunity to become the entrepreneur you always wanted to be.
Needless to say SANS offers the backbone support on various parameters to the BP. These include network strength, periodic training, operational, IT support, apart from the strong infrastructure.
The TBP or the Territory Business Partner represents an area within a regional office with 200 or more Business Partner reporting to him. With an eye on developing the customer base & brand promotion, the TBP is an important cog in the wheel.
The DBP or the District business Partner represents an independent territory while reporting to the regional office. He is straddled with the responsibility of appointing, developing & controlling the BP's while maintaining the brands & its highest standards of company policy & discipline.
Both the TBP & the DBP are allowed to attend regional management meetings & can share their views.
Becoming a BP with SANS opens up a whole new world for the applicant. Based on the bedrock of trust the relationship is mutually beneficial.
How does one become a SANS Business Partner? Only a few basic formalities need to be completed to become a Business Partner with us.
For more details about BP appointment, register online.
SANS Technologies offering to join our organization and start your Earning
Yes, Do you want to Start Your Own Business…?
Do you book your news portal?
Just fill the below details and submit. Our SANS team will contact you soon